About Jeus (born 1898, departed this life 1952)
In the bitter cold of the winter of 1944 a Dutchman worked at one of his latest books. He had been known as a spiritual man, a gifted writer and painter and as a healer. As he worked his country was wracked with the pangs of famine and the trauma of a war waged across most of the world. While V2's flew over, Jozef was close to starvation, but the subject he wrote of was not of the here and now but of the hereafter...
Jozef Rulof (Joseph in English) was known where he grew up -in 'Gelderland', the east of Holland- as Jeus (Joe in English). He had not been a typical or an ordinary child. He was said to be a dreamy child with 'eyes like heavens' and told of how he had a companion, a "light being" that he called a "Master" and that this being conveyed messages to him. He was it seems from early childhood a clairvoyant and a natural healer. At the age of five he had announced that he would write books and this he did many years later.
Jozef was born on 20 February 1898, his full name: Josephus Gerhardus Rulof, the third child of Christina Hulst (known as Crisje) and Hendrick Franciscus Rulof (known as Lanky for he was rather tall). The Rulof family had seven children. It was a warm family with a strong mutual bonding among the siblings and their parents.
Jozef was not attentive at school preferring to wander the fields and woods of the local countryside. When his father, a gifted violinist and singer, died in 1911, Jozef left school to earn a living to help support the family.
Initially he worked in a local brush factory, switched to a chocolate factory and later he became the assistant of a jeweller. When he grew older he moved to The Hague in the spring of 1920 where he lived with his elder brothers. There he had a varied career as a polisher, delivery man for a food take away and as a bicycle repairman for which he moved to Rotterdam. On moving back to The Hague a friend taught him to drive and he became Taxi driver showing tourists the sites around the city. At about this time he married Anna Fuchs (16 February 1900) from Vienna on the 8th of August 1923 and they set up home together.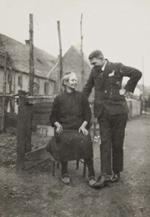 In the meanwhile Jozef became a fast and a gifted 'trance' painter and he used income from his painting on canvass and on porcelain, to finance the publishing of his first book "A view into the hereafter".
Once when asked to demonstrated his skills, he painted a work with great speed, but... the paintings were upside-down! It became apparent only for the stunned audience, when he turned the finished work the right way up. This simple extraordinary act demonstrated a deep and a vivid level of skill and of creative flair. Such men it seems are bound to have impact upon future generations.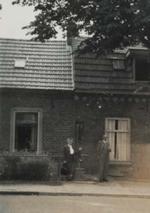 As Europe emerged from the Second World War, Jozef developed as an important lecturer and teacher. He lectured at major venues across the Netherlands and the United States of America. In 1945 he went for his first trip to the United States and stayed with his two youngest brothers who had become US citizens. One of Jozef's books was translated in English, titled: 'My Revelations to the Peoples of The Earth' and his two yongest brothers (Hendrik and Antoon) raised money for publishing. They send copies of the book all over the world. Jozef returned to the US in 1947 and 1948 and met many people. On these American tours his English seemed without an accent to his American audiences despite having no formal teaching in the language.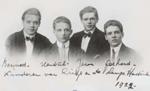 On departing this life at 3rd November 1952 he left an inspired legacy of 27 books, an artistic and a creative legacy of more then 1000 paintings and delivered more then 850 lectures for large public audiences.
Up until today, about a third of his books have been translated in English, French and German and are under translation into Polish, Russian and Portugese.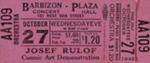 In addition to these legacies and prior to his end on this world he established the Foundation "Society for Spiritual Consciousness - The Age of Christ" on 12 September 1946. This is to spread the Master's revelations to a wider public across the world. You can find more information about this foundation and the books of Jozef Rulof at www.rulof.org